I've often said that I was such a good mother until I actually had kids. I still blush when I think of all the times I had looked down my nose at children in public places and think that my child would never behave that way. (Little did I know.)
My little angels would always be well-dressed, have wonderful manners, be funny, sweet and brilliant. My romantic visions of motherhood were shattered the moment my first red-faced, screaming bundle of um…joy, was handed to me.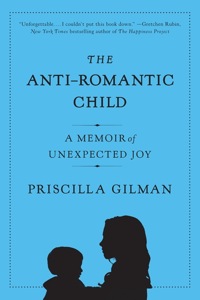 When Priscilla Gilman discovered that she and her husband were expecting, she also knew exactly how she wanted to raise her child. Only her vision of childhood was a little more realistic than mine. She based her dreams on the poems of Wordsworth as well as her own extraordinary childhood and wanted to recreate that with her own children.
When their son Benj was born, Gilman had concerns that something wasn't quite right. The child she had hoped to cuddle and nurture didn't want to bond or even be held. As the months passed, they found that he didn't physically develop as he should have. Yet, by the time he was two years could read entire books fluently, count and tell time.
When Gilman found out that instead of being a prodigy, Benj had a developmental disorder called hyperlexia, she was devastated. At first she felt as though her "dream of Benj's happy life had disappeared." Then she did what good mothers do and went about doing all she could for her son.
It really struck me when Benj's kindergarten teacher said, "You're on a journey with this child, Priscilla. That's true of every child of course, but more so with this one." Gilman gives and honest and poignant account of her struggles and unexpected joys of in her journey advocating for and raising Benj.
I wondered if I would be able to relate to this book. After all, my girls are "normal." I found that this wasn't so much a book about raising a special needs child, as it was a book about raising a child. As parents it's our calling and our joy to accept our children for who and what they are. I very much enjoyed, and recommend The Anti-Romantic Child: A Memoir of Unexpected Joy.
I received a copy of this book from the publisher via TLC Book Tours in exchange for my review.
~~~~~~~~~~~~~~~~~~~~~~~~~~~~~~~~~~~~~~~~~~~~~~~~~~~~~~~~~~~~~~~
Thank you for reading A Slice of My Life. I hope you enjoyed reading this as much as I enjoyed writing it. If you liked this post, why not consider "liking" my Facebook Page, subscribing by mail (at the upper right) or signing up in a reader. I'd be thrilled and you would never miss a post!