One of my bloggy friends has been participating in a meme called Friday Fragments hosted by the Unknown Mami. I thought I would invite myself to play along because I'm a joiner like that. Basically it's a bunch of random thoughts all bundled into one post. I have a LOT of random thoughts, just ask Shaun.
When we first moved to WA there were a couple things that I just didn't "get". One was kettle corn. I remember seeing people hauling around big bags of popcorn at Halloween parties geared towards kids at Shaun's work. I simply couldn't understand why they were so excited about popcorn of all things. Then one year I tasted some. Oh my…all those years of missing out. Now, of course, kettle corn is all over the place and I love it. Although I still regret not being a part of that exclusive in-the-know club all those years ago. Sigh…
Another thing I didn't understand was Rainer Cherries. They were sooo spendy and they weren't even the right color! Who ever heard of a yellow cherry? Eventually I was convinced to try one. It was love at first bite. Now I eagerly look forward to the cherry sellers alongside the road every year. YUM!
I always think of my Aunt Mary at cherry time. We were in Michigan several years ago for a family reunion. For some reason or another, Aunt Mary was boasting that Traverse City was the Cherry Capital of the world. she said that everyone knew that the best cherries came from Michigan. Then she happened to look down at the container that the cherries we were gobbling up came in. I still laugh when I think of how baffled she was when she read that those delicious cherries had been grown in Wenatchee, WA.
I say "Cherry Time" because fresh cherries have a very short season. It's so sad.
One of the best parts of eating cherries is spitting out the pit. Well at least for most people. I'm pretty awful at spitting things I'm going to blame it on the fact that I can't roll my tongue. Which is genetic. Therefore, it is not my fault that I can't spit pits beyond my chin.
One time Shaun and I were driving down a dusty country road, just enjoying each other's company and eating cherries. We were both spitting the pits out my window. (Shaun can roll his tongue, thus he is genetically a champion Spitter.) Then Shaun got the brilliant idea that I should spit my pits out his window. (Do you see where this is going?) Of course I protested, I know my limits. Finally, my persuasive husband managed to convince me to spit across him and out his window. Only my spitty pit only made it as far as Shaun's cheek. Oops…
That's enough random thoughts about cherries. I think I'll go eat a few more!
Be sure to visit Unknown Mami for more Friday Frags. (I doubt they are all about cherries!)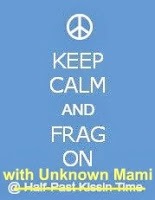 ~~~~~~~~~~~~~~~~~~~~~~~~~~~~~~~~~~~~~~~~~~~~~~~~~~~~~~~~~~~~~~~~~~~
Thank you for reading A Slice of My Life. I hope you enjoyed reading this as much as I enjoyed writing it. If you liked this post, why not consider "liking" my Facebook Page, subscribing by mail (at the upper right) or signing up in a reader. I'd be thrilled and you would never miss a post